Over the next few weeks, you can look forward to a series of author interviews with some of Sunpenny authors, which will help you get to know the authors better and get more of an insight and behind the scenes look into their books. Today, we're starting the series with an interview with:
KC Lemmer
Author of A Flight Delayed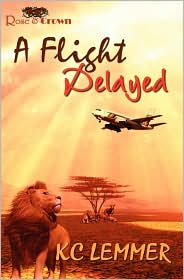 Description for A Flight Delayed:
When career-focused Amanda McCree discovers that her controlling Great Aunt, as a last request, has especially asked that she be the one to carry her Aunt's remains to Cape Town, South Africa, Amanda is furious. The last thing she wants to do is travel to another continent with her Great Aunt's ashes - even less to visit her parents after so many years of bitterness over their rejection. Amandais even more horrified to find herself stranded at her stopover in Zimbabwe due to fuel shortages.
But over the next month, through the love of a family that takes her in, the economic crisis of Zimbabwe, and a man who daily lives with his own guilt and heartbreak, Amanda realises that God is more interested in her than she had ever thought. As all Amanda's plans go haywire and she finds herself suddenly helpless in the heart of the African bush, surrounded by wilderness and dangerous animals, miles away from her needful friend who is suffering from anorexia, and as she is let into the hurting world of the handsome Caleb Jacobs and his family, Amanda is forced to face her own family divisions and to depend upon the God she thought had failed her.
Now for the questions- welcome to the blog!-:
1. Can you tell us a little bit about yourself?
I grew up in Zimbabwe and then went on to study in South Africa because I did not want to stay in my home town to train to teach. I eventually found myself in the UK, one of the places I had told God I was not keen on moving to, (in particular, England for some reason). I now live in England and am teaching English to teenagers – I'm loving it! Surprise Surprise!
One major hobby would probably be sport: I've always been keen on sports and had a lot of opportunity throughout school life to be involved in various sports, in particular field hockey. I tend to now jog more and have run a half-marathon and marathon this year. I usually find this to be stimulating but restful time to think and spend time talking to God (although hills result in a lot of complaining!)
2. Your book A Flight Delayed is set in Zimbabwe. How much of your own experiences from growing up there did you use to write the book?
I have to admit that I grab ideas from all over, not all are my personal experiences – some were rumours and stories that passed through our community. Quite a few incidents were experiences that I did have, however. For example, the idea of a flight delayed came from an incident where I overslept and missed my flight back to University in Cape Town. Fortunately the airport was able to put me on another flight (it was all around the same time fuel shortages were happening and we speculated whether my flight was actually grounded – perhaps it was just me trying to console myself for poor management!). Growing up in Zimbabwe, I have so many memories of the surroundings, of holidays on game reserves and community get-togethers; I tried to show just some of these beautiful scenes and experiences in "A Flight Delayed".
3.
Describe A Flight Delayed in a short sentence.
A story showing how God can do anything He wants to, even if it means creating an unexpected visit to an unknown country to teach someone about His love.
4.
Where do you like to get your inspiration for stories from?
From personal experiences and from listening to and watching others. Sometimes I hear something and my mind trails off wondering how the circumstances could have been different if certain things had not or had happened. On other occasions, I might hear a snippet of conversation in a public place but not enough to know what is happening; my mind runs through a thousand possibilities of what is actually being said and creates a whole story (usually my imagination takes the scenario way beyond reality). For example, I recently overheard a couple chatting in an airport queue in front of me. I caught the phrase, from a distraught looking woman, "we shouldn't travel...then we would not have to be separated". Within ten minutes I had the wedded couple (they wore wedding rings) on the brink of a possible divorce having just had a holiday to try and mend their fractured relationship, and I was on the verge of tears for them wondering how on earth their relationship could be saved. When we were on the plane, I discovered they were sitting in two different rows on the aeroplane! So for me, there's always stories happening – some real and some not.
5. What appealed to you about writing in the genre of Christian inspirational romance?
God is the author of romance and I am constantly amazed at the romance He shows throughout scripture between people, like the fascinating story of Isaac and Rebecca, the faithful commitment of Joseph and Mary, a (Roman?) Priscilla married to (a Jewish?) Aquila working together in a practical way making tents, while serving God, as well as so many more unusual but beautiful romances. I think God loves romance, after all He calls the church His Bride, and that He has high hopes for a Christian relationship. I believe that if two people follow Him and seek His will together, He can use a godly marriage in profound ways.
6.
How did you feel when you saw A Flight Delayed in print for the first time?
Amazed but delighted – and maybe just a little nervous.
7.
If you were given the opportunity to live in your book, which character would you like to be?
Probably Kari, in some ways parts of her story is my story.
8.
Where is your favourite place to write?
Anywhere! Most of all I love a quiet place with a view where you can see for miles; there is scope for the imagination then.
9.
How long did it take to get A Flight Delayed from first draft to published book?
A few months – to be honest, I can't remember.
10. Do you like to read yourself?
I love reading. Collecting novels is one of my vices (I wish it was a slightly cheaper one). A top favourite is Francine Rivers – I find her books challenging but inspiring. Lately I've been reading more of Ted Dekker; I find the plots fascinating and unusual.
11.
What are you working on writing currently?
I've just finished writing the sequel to "A Flight Delayed" where the plot surrounds Kari, Amanda's friend.
2. Have you got any tips for budding writers and aspiring authors?
I found it especially useful to base my plot around actual places and include some life experiences and insights. My ideas and details flow easier when I have experienced aspects of what I am writing about, or have detailed information on it.
Quick fire questions for a bit of fun- which do you like best?:
1.

Reading or writing? Reading
2.

. Writing or typing? Typing
3

Winter or summer? Oooh – a tough one. Probably summer though – sun or rain.
4. Paperback or hardback? Paperback
Thank you for such interesting answers- I definitely enjoyed reading them!
If you're interested in finding out more about K.C Lemmer or 'A Flight Delayed,' you can visit her website here. You can also buy 'A Flight Delayed' through the Sunpenny store or Amazon.