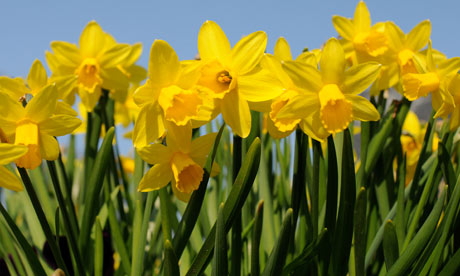 It finally feels like Spring is just around the corner with it officially starting here in the UK on the first day of March! There have been a few gorgeous sunny days this week despite the crisp chill in the air.
As a Start of Spring treat, we're offering Bridge to Nowhere by Stephanie Parker McKean to download as an e-book for the bargain price of £0.99 this Saturday! It is the latest book in our inspirational romance imprint 'Rose & Crown' and the first book in a series. We're definitely hoping that soon the English skies are looking as blue, and the flowers as pretty, as they do on the cover.
'Bridge to Nowhere' by Stephanie Parker McKean


Best Selling crime author Mike Rice – or 'Miz Mike' to her friends – is by nature inquisitive (or "meddling" to her friends). She also has a heart of compassion that gets her intro trouble time and again, and her inability to really hear what God is saying to her doesn't help! So when a beautiful young stranger begs her to investigate the death of her sister, Mike is soon not-too-reluctantly embroiled in a mystery that involves the whole town of Three Prongs. She finds herself rapidly immersed in the illicit subculture in Texas Hill County – from dog fights to kidnappings, jealousy and murder – and her life is thrown into chaos as she takes in two troubled youngsters to boot. And that's without the animals thrown in!

Mike's crazy crush on the town heart-throb, retired film star and rodeo champion Marty Richards, fuels her impossible fantasies about the two of them hooking up. But when he finally asks her out, her need to track down culprits and bring them to justice gets in the way every time. Will they finally settle on a date and keep it? And more importantly, will Mike's M&M fantasies ever grow roots in a real relationship?
About Stephanie Parker McKean
"I've survived being mauled by an African lion and bitten by a deadly water moccasin snake and have emerged victorious after suffering a childhood of sexual abuse. I've learned that what doesn't make you bitter makes you better. You can't make lemonade without lemons. And thank God, I've made the transition from atheist to Christian. My two favourite Bible verses are: in everything give thanks, and all things work together to good to them that love the LORD. Now, Sunpenny Publishing, with its release of my Christian mystery-romance-suspense 'Bridge to Nowhere', has gifted my lifetime dream of writing books with reality. I'm now married to wonderful Alan McKean – also a published author – and living in the lovely Black Isle of Scotland, even though I was born in Texas and am still proud of my birth state. Next to writing, a few of my favourite things are animals and rocks. I love building with rocks and cement when I'm not writing or taking our rough collie, Angel Joy, for a walk. And about the lion – he wasn't being mean when he mauled me – he was just being a lion. As for water moccasins, I no longer pick them up to see if they are poisonous or harmless, because they seem to resent being picked up… and after that stay in the hospital – I know anyway!"
What do people think about 'Bridge to Nowhere'?
Everyone at Sunpenny enjoyed reading it but here are some comments from people like you:
"If you want a simple book with a simple story this is not for you. If, on the other hand you like to keep guessing and be guessing till the end, this is your book. It is well written and crafted, with twists and turns and the murderer in 'Bridge to Nowhere' is never who you think it is. When you start the book, do not plan to be doing anything for a spell. Somehow the pages keep turning. Miz Mike finds trouble like a dog can find fleas. You will enjoy it and a little bird told me there are more to come."
Alan, on Amazon
"'Bridge to Nowhere' introduces Michael Rice (Miz Mike, to her friends), a mystery writer who wants nothing more than to mind her own business, dream about her secret heartthrob, Marty, and play the M&M game. In spite of her best efforts, Miz Mike continuously gets herself into "pickles", as Marty calls them. When a strange woman approaches her with a claim that her sister had been murdered – a local woman thought to have died in a tragic explosion – Miz Mike can't help but start investigating. In the course of her search, she stumbles across the bridge that leads nowhere, as well as a disappearing dog-fighting operation. Along the way, she winds up taking into her home several misfits who have nowhere to go. Even as Miz Mike tries to mind her own business, evil is afoot in the small town of Three Prongs, evil such as this small town could never have imagined. When Miz Mike's youngest grandson, Ryan, is kidnapped, Miz Mike has to rely on her faith and God's ability to help her sort out the puzzle and save her grandson.
'Bridge to Nowhere' is filled with a cast of unforgettable characters, humour, and surprising plot twists that keep you guessing to the end. And for those readers who find themselves in "Miz Mike withdrawal" after finishing this book, I understand that the second in the series should soon be available."

Henry Morgan, on Amazon
"
Wonderful feel of Texas which jumps off the page. Mike's character is beautifully drawn, middle-aged, ditsy, disorganised, man-hungry, telling everybody that they should have faith in God to sort out all their problems. The classic bit was where she told the villain that she would rot in Hell and that they still had the death penalty in Texas. A lot of self-deprecating humour.
She probably fixed everyone's probs a bit too quickly, like the druggie who comes to live with her, reforms instantly and becomes a marvellous journalist.
A thoroughly enjoyable read! I will look for more from this author!"
Rosemary E Johnson, on Amazon
'Bridge to Nowhere' will be available to download to your Kindle, Nook, Kobo, iPad, etc. for just £0.99p on Saturday, February 23rd ONLY. Spread the word and let us know what you think of it in the comments or on our Twitter and Facebook pages!
Links to download 'Bridge to Nowhere':